Frying Plantain
by Zalika Reid-Benta
October 18 – October 31, 2021
Set in the neighbourhood of "Little Jamaica," Frying Plantain follows a girl from elementary school to high school graduation as she navigates the tensions between mothers and daughters, second-generation immigrants experiencing first-generation cultural expectations, and Black identity in a predominantly white society.
Kara Davis is a girl caught in the middle — of her North American identity and her desire to be a "true" Jamaican, of her mother and grandmother's rages and life lessons, of having to avoid being thought of as too "faas" or too "quiet" or too "bold" or too "soft." In these twelve interconnected stories, we see Kara on a visit to Jamaica, startled by the sight of a severed pig's head in her great-aunt's freezer; in junior high, the victim of a devastating prank by her closest friends; and as a teenager in and out of her grandmother's house, trying to cope with ongoing battles of unyielding authority.
A rich and unforgettable portrait of growing up between worlds, Frying Plantain shows how, in one charged moment, friendship and love can turn to enmity and hate, well-meaning protection can become control, and teasing play can turn to something much darker.
Find in a library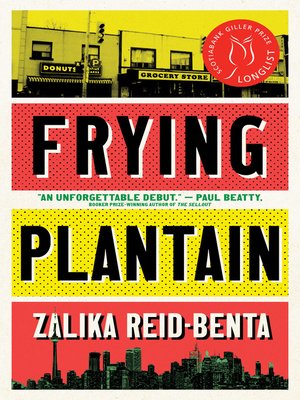 Zalika Reid-Benta
ZALIKA REID-BENTA is a Toronto-based writer. Her debut short story collection FRYING PLANTAIN won the 23rd annual Danuta Gleed Literary Award, recognizing the best first collection of short fiction by a Canadian author published in 2019 in the English language. FRYING PLANTAIN also won the 2020 Kobo Emerging Writer Prize in literary fiction, was shortlisted for the 2020 Trillium Book Award and was longlisted for the 2019 Scotiabank Giller Prize. FRYING PLANTAIN is currently nominated for the 2020 Forest of Reading Evergreen Award presented by the Ontario Library Association. Zalika is also the winner of the 2019 Byblacks People's Choice Awards for Best Author.
---