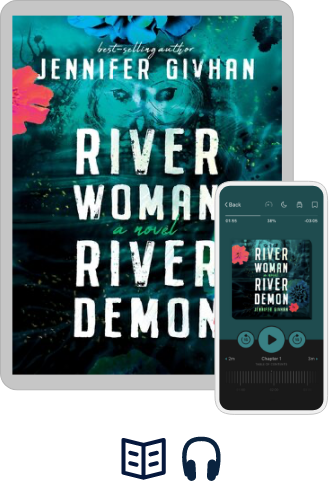 River Woman, River Demon
by Jennifer Givhan
March 1 – 15, 2023
Award-winning Mexican-American and Indigenous author Jennifer Givhan brings us an exquisitely written, spell-binding psychological thriller—weaving together folk magick with personal and cultural empowerment—that is perfect for fans of Mexican Gothic.
When Eva's husband is arrested for the murder of a friend, she must confront her murky past and embrace her magick to find out what really happened that night on the river.
Eva Santos Moon is a burgeoning Chicana artist who practices the ancient, spiritual ways of brujería and curanderisma, but she's at one of her lowest points—suffering from disorienting blackouts, creative stagnation, and a feeling of disconnect from her magickal roots. When her husband, a beloved university professor and the glue that holds their family together, is taken into custody for the shocking murder of their friend, Eva doesn't know whom to trust—least of all, herself. She soon falls under suspicion as a potential suspect, and her past rises to the surface, dredging up the truth about an eerily similar death from her childhood.
Borrow in Libby